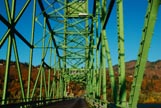 Photography and Other Visual Art
Because photography is my main visual art form, it's all photography, unless otherwise noted.
From 1995-1999, I was a part of a creative writing and performance group called Queer Players (and some other names, but that's a long story). While I was with them, we produced 5 magazines, 2 'zines, and 1 resources guide, which also included some of my photographs. We were made up of queer and questioning youth from San Diego County, CA and my time with them helped instill in me a real determined–to–be–creative–and–DIY–it–if–I–have–to streak. If you can, please support youth art programs!